41 Food & Drink Advent Calendar Ideas for 2023
The holiday season is rapidly approaching, and with it comes the enchanting tradition of Advent calendars. These delightful countdowns not only mark the days leading up to Christmas but also sprinkle a daily dose of excitement into our lives. While the Christmas tree might be the star attraction, Advent calendars are fast becoming a central holiday tradition in the U.S. as they have been in Europe for decades. Now in 2023, they come in an array of themes and styles designed to delight both kids and adults.
I'm thrilled to share my list of the 41 Food & Drink Advent Calendar Ideas for 2023. Whether you're a parent eager to surprise your little ones with daily delights or an adult seeking to infuse your life with a touch of holiday magic, there is something special for everyone. From decadent chocolates and baking surprises, these Advent calendar ideas promise to elevate your holiday season. So, prepare to embark on a daily journey filled with wonder and delight, because this holiday season has never looked this enticing!
The Magic of Advent Calendars
The holiday season is a time for Christmas activities, and Advent calendars have emerged as a fun way to make every day in the run-up to the big day feel special. While we all adore the majestic Christmas tree and the joy of decorating it that normally only takes a weekend. Advent calendars offer a daily ritual that builds excitement, adds a touch of magic, and turns each day into a surprise with small gifts.
Advent calendars have come a long way since they began in the 19th century as chalk marks on a door to count the days till Christmas. They evolved into candles, then traditional hand-painted Advent calendars that started with German Christmas traditions. Then they morphed into ones that had doors that opened with chocolates – like the ones we see today. I can't imagine what our ancestors would think of all the Advent calendars that are available today. 
Whether it's an Advent calendar for kids brimming with little gifts or one for adults filled with special treats, these fun ideas have quickly become an integral part of our holiday tradition. They allow us to countdown to Christmas with glee, providing us with a small daily gift or activity to keep the holiday spirit alive. In recent years, the range of Advent calendars has expanded, catering to various tastes and preferences. From sweet treats to savory delights, baking projects, and more, these calendars add a touch of wonder to our Christmas season. You'll find the Advent calendar ideas in this list come in a wide variety of shapes, sizes, and prices. There really is an Advent calendar to fit everyone. 
The most traditional Advent calendars are filled with chocolates and candies, making them a favorite among both children and adults. There's something undeniably delightful about savoring a sweet treat each day as we inch closer to Christmas. Here are some exceptional sweet Advent calendars that will bring joy to kids and adults alike. Be sure not to miss the Countdown Candy Tree Advent Calendar from Dylan's Candy Bar, a towering tree with over 2 feet of sweetness! Don't forget you can pair some of these with the Christmas books and movies that inspired them. 
1. 24 Days of Sweets Advent Calendar, Dylan's Candy Bar
A gingerbread house-themed Advent calendar filled with holiday candy surprises behind the little doors.
2. Charbonnel Et Walker Chocolate and Truffles Advent Calendar
A chocolate Advent calendar is always a great choice especially when you get a new one to try every day. 
3. Countdown Candy Tree Advent Calendar, Dylan's Candy Bar
An oversized Christmas tree with 24 ornaments to open each day leading up to Christmas. This Advent calendar makes a statement in your own home. 
4. Elf™ Advent Calendar
Featuring sweets that Buddy the Elf himself would love and will transform your Christmas spirit. 
6. Hallmark Countdown to Christmas Truffles Advent Calendar
A great way to countdown the season is with a Christmas movie and Hallmark's own truffles Advent calendar. 
7. Harry Potter Advent Calendar
Be careful you never know what flavor of Bertie Bott's Every Flavor Beans you will get with this calendar, but don't worry there are lots of other sweet treats to enjoy. 
11. The Grinch™ Advent Calendar
Make your heart grow with these delicious sweets to enjoy every morning until Christmas. 
12. Yule Be Home for Christmas Sugarfina Advent Calendar
Santa's Candy Shop will be a hit with younger and older kids so don't forget to order more than one. Plus, you get a discount if you order two or more. 
Feasting on Foodie Advent Calendars
For the foodie in your life, there is never a shortage of Advent calendars. I love the newer Advent calendars including the noodle, oil, and spice ones. My parents love the Bonne Maman Advent calendar. They even have a little plastic bin in the fridge where they keep the open jellies and jams until they are all used up – spoiler alert they are almost all gone by Christmas morning.
13. 12 Days of Charcuterie Advent Calendar
I grew up going to my Grandma's house and there always being cheese and crackers to snack on prior to dinner – normally gouda cheese. So, I have a love affair with charcuterie that started at a very young age. Hickory Farms always brings back those fond memories and I can't wait to dig into this Advent calendar. 
14. 12 Days of Hot Sauce Advent Calendar
Gift some holiday heat to usher in the Advent season. The flavors range from sweet and savory to mild and hot. I am sure we all have a family member who would look forward to opening these doors each day. 
15. 12 Days of Noodle
I love the idea of having a different pack of noodles to try each day. You could plan on this being your lunch each day before Christmas. 
16. Bonne Maman 2023 Limited Edition Advent Calendar
Bonnie Maman makes delicious jams and spreads. This Advent calendar features 24 unique flavors including some exclusive holiday flavors. Over the past few years, my sister and I have been giving my parents the Bonne Maman Advent calendar and they love it – it's become one of our family traditions.
17. Oliviers & Co, Advent Calendar
Each door of this Advent calendar opens to a selection of condiments, including vinegar, olive oil, jam, truffles, honey and salts. This is a great idea for anyone who loves to cook in your family. I love the opportunity to try new condiments, especially oils and vinegars. 
18. Spice Advent Calendar
An exclusive spice Advent calendar created for Williams Sonoma by Parisian spice specialist Le Comptoir Colonial. Spices included will be great for vegetable, fish, meat and sweet dishes. A great way to try a new spice and dish.  
Baking and Creating Advent Calendars
Advent calendars that tantalize your taste buds and inspire creativity in the kitchen are perfect for families. Some of my most cherished memories involve baking for the Christmas season with family. Consider these delectable Advent calendars as a way to create your own culinary moments and family traditions leading up to Christmas Day.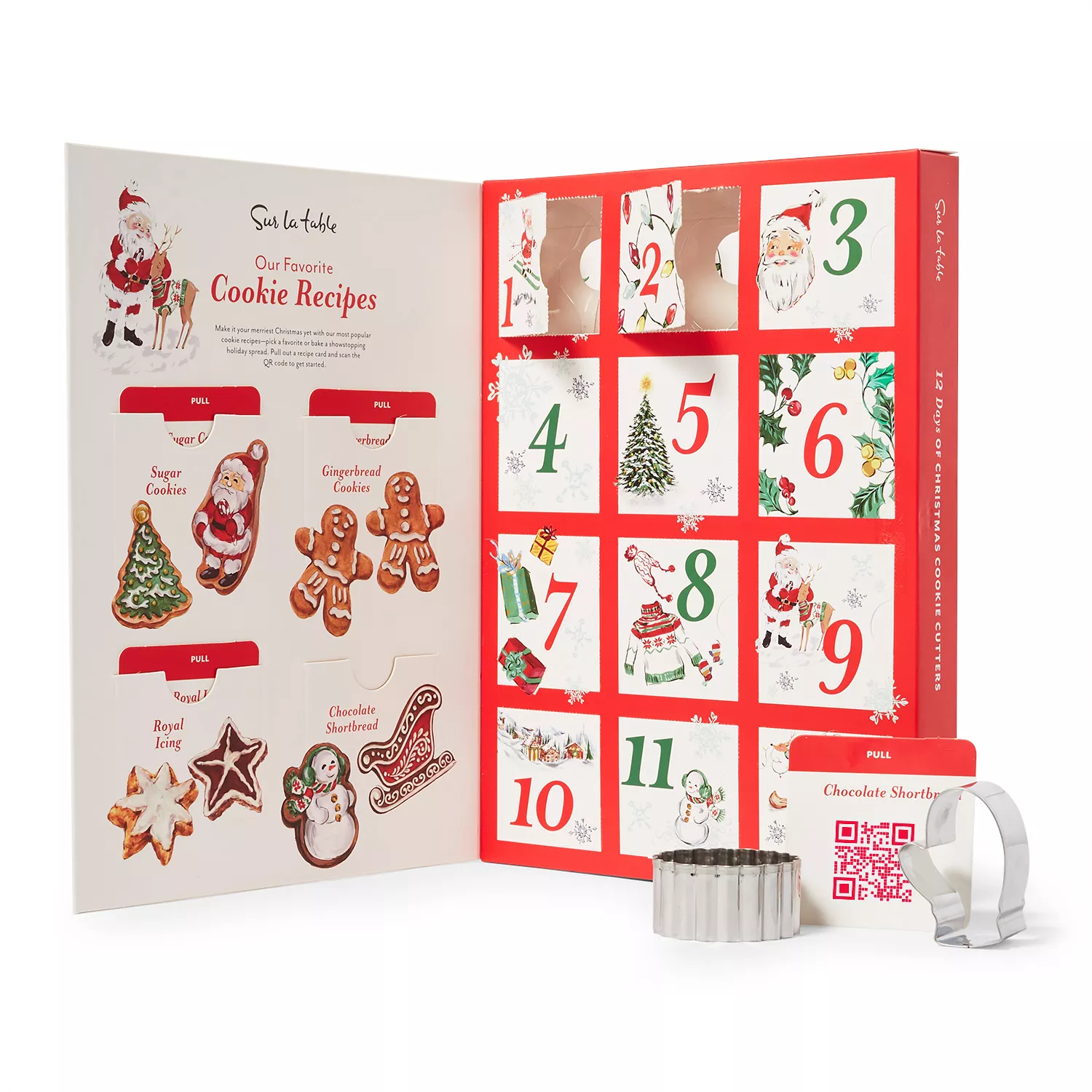 19. Sur La Table Mini Cookie Cutter Advent Calendar, Set Of 12
Who can pass up an Advent calendar with cookie cutters? It's the perfect way to start new family traditions, especially with your young kids. Plus, it includes four cookie recipes to get you started. I'm not sure about you but I would probably open them all in a single day to get the fun activities started! 
20. Williams Sonoma Holiday Advent Calendar: 24 Days of Baking Cookies
This Advent calendar includes cookie cutters, piping bags, gift bags, decorating tips, spatulas and more. It will provide a wonderful way to celebrate the holiday season with your own family. I love using things like to bake cookies for others. 
Sipping into the Season with Drink Advent Calendars
Kickstart your day during the Advent season with a special drink. Whether you prefer coffee, hot chocolate, tea, or even water, there's something for everyone. These calendars provide a daily ritual of warmth and refreshment. I personally love having a tea Advent calendar to discover my new favorite tea for the next year – it's a great way to try so many different flavors of tea especially ones you may not have picked up on your own. Although this year I am definitely leaning towards the 12 Days of Hot Cocoa Bombs Advent Calendar – I mean what could be better?
21. 12 Days of Hot Cocoa Bombs Advent Calendar
Hot cocoa is one of my favorite things to drink, especially during the holiday season. I'd much rather have cocoa bombs than bath bombs to sweeten up my day. 
22. 24 Cups of Cocoa K-Cup Advent Calendar
A great option for the cocoa lover in your family that has a Keruig. This Advent calendar offers flavors including: gingerbread, peppermint (always reminds me of eating a candy cane), caramel and more. 
23. Keurig® 24 Cups of Cheer Advent Calendar
A pack of seasonal k-cups for a delightful cup of coffee every day until Christmas!
24. Original Advent Calendar, Nespresso
A coffee Advent calendar with a surprise: a limited-edition coffee mug. Plus, the flavors include seasonal and permanent coffees to brighten your day during Advent.  
27. Waterdrop Advent Calendar
I drink a ton of water but a lot of the time I am searching for something with more flavor and vitamins. Waterdrop has cubes that include fruit and plant extracts and this Advent calendar is a great way to try them. Plus they have different sizes so you can choose the best one for your family members. 
Indulging in Alcoholic Advent Calendars
For those who like to add a little extra kick to the Advent season, there are boozy Advent calendars with a variety of options no matter what your drink choice is. One thing to remember is that these can only ship to certain states so you may have to drop into the store to pick yours up, so don't forget to shop early.
28. Abtey Prestige Liqueurs Adult Advent Calendar
Just for the grown-ups an Advent calendar with 24 liqueur-filled chocolates to liven up your Christmas season. 
29. Hard Seltzer Advent Calendar
Featuring 12 seltzers from breweries around the US including some favorite brands such as White Claw and some up and coming brands. 
30. Jack Daniel's Holiday Countdown Advent Calendar | 2023 Edition
Enjoy your holiday season with Tennessee Whisky by Jack Daniel's. Includes some shot glasses too!
31. Most Wonderful Wine Advent Calendar
Trying different types of wine is something I love to do, but I don't always want to buy a large bottle. I love these little bottles that allow you to try a bunch of different wines over Advent. The included wines come from all over the world. 
32. The Scotch Whisky Advent Calendar 2023 | 24*30ML | By DRINKS BY THE DRAM
An Advent calendar filled with Scottish whiskies to enjoy through Christmas Eve. 
Worldly Wonders: Advent Calendars from Around the Globe
International Advent Calendars offer a delightful way to explore and celebrate diverse cultures during the holiday season. These calendars go beyond traditional holiday motifs, introducing unique customs, flavors, and traditions from around the world. These calendars not only bring joy to your daily countdown but also serve as a global journey, connecting you with the beauty and diversity of the world's holiday traditions.
33. Amedei Advent Calendar
25 drawers filled with artisan chocolates from an award-winning Italian confectioner. Plus, the packaging is made from recycled cocoa bean shells. 
34. Bokksu Japan Wonderland Advent Calendar
Japanese treats to transport you to another country and elevate your holiday spirit. A culture guide is also included with the Advent calendar. 
35. Food52 x Maison Boissier Parisian Advent Calendar
A special Advent calendar with chocolate-coated nuts, gummy candies, caramels, and more inside. Made by a Parisian confectionery founded in 1827. A great gift for your favorite Francophile. 
36. Lakrids by Bülow Danish Licorice Advent Calendar
An Advent calendar filled with Danish licorice candies. I know my sister and mom would love this calendar! 
37. La Maison du Chocolat Advent Calendar
One of the most beautiful Advent calendars I've seen. Bring a little bit of France into your home this Christmas season. 
38. Wally and Whiz Danish Gummy Advent Calendar
A gummy calendar in a medley of flavors made with fresh and natural ingredients from Danish confectioner Wally and Whiz. The packaging also has braille numbers marking each day. 
Perfect for anyone who loves to cozy up on the couch with Christmas movies, these snack Advent calendars will keep you munching throughout the season. I know my sister will love the Whirley Pop Advent calendar. 
41. Whirley Pop 6-Qt. Popcorn Popper & Advent Calendar
A delicious Advent calendar to pop your way through the festive season. Each door holds popcorn-related gifts like kernels, sweets, seasonings, and gift boxes with recipes.
I hope this countdown to the 41 Food & Drink Advent Calendar Ideas for 2023, has ignited your holiday spirit and left you eager to embrace the season with a touch of magic. Advent calendars are more than just daily treats; they're traditions that bring families and friends closer, infuse our days with excitement, and remind us of the joy of giving and receiving. Don't forget to order yours soon as Advent calendars tend to sell out quickly!
Whether you're reliving the wonder of your childhood or discovering new ways to celebrate the season, there's an Advent calendar on this list for you. As the days grow shorter and anticipation builds, may these calendars make your holiday season brighter, more exciting, and filled with the kind of joy that only the magic of December can bring.
Incorporate these great ideas into your Christmas activities this year, and you'll find yourself creating cherished memories. Happy holidays, and may your Advent season be filled with wonder, joy, and love! 🎄🎁✨